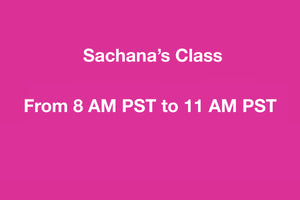 Sachana's Class on Friday March 17 2023
Class is from 8 AM PST to 11 AM PST (duration 3 hours)
TO READ BEFORE SIGNING UP
YOU NEED TO SUBMIT YOUR PHOTOS 72 HOURS BEFORE THE CLASS TO GIVE THE TEACHER ENOUGH TIME TO PREPARE YOUR LAYOUTS DESIGN. INSTRUCTIONS ARE INSIDE THE DIGITAL PDF THAT WILL BE SENT TO YOU IMMEDIATELY AFTER SIGNING UP.
We will use zoom meeting for the class, so you need to know how to attend a zoom meeting and you will receive the link inside the "digital pdf" sent to you as soon as you sign up.
You will need a computer/lap top for the class so you can see on the big screen what Sachana is showing you.
Sachana gives 2 layout idea sketches, most of the times the first layout is done during the class. The class is recorded and the access will be provided for free for the attendees. (We need 2 weeks for editing and adding the class online)
To ensure the best one on one experience the class is limited to 6 students so everyone has individual attention when working on their own layout.
Attendees
#1  Caroline Stewart
#2 Linda Gallacher
#3 Michelle Bobier
#4 April Victor
#5 Tracy Shaw
#6 Jennifer Brock
waiting list Katherine Pond  
---
We Also Recommend